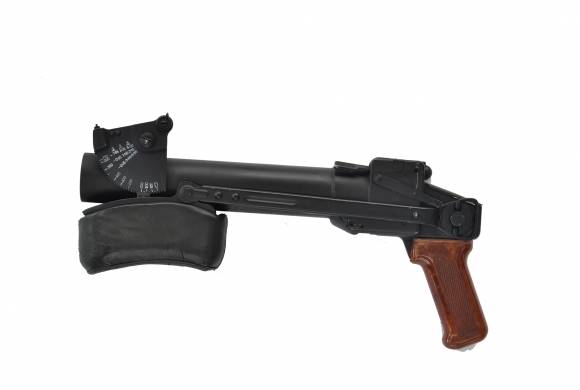 Description
The 40 mm single-shot grenade launchers are available in versions: underbarrel (GP-40) and independent (GS-40), firing with ammunition of 40 mm x 46 NATO standard. The GP-40 grenade launcher is adapted for quick assembly to carbines TANTAL mod.88, BERYL mod.96  and AKM. The GS-40 grenade launchers are equipped with a folding stock fitted with rubber recoil pad.
The 40 mm single-shot grenade launchers are intended for fighting manpower, light armoured vehicles and other enemy combat agents
Main characteristics:
high efficiency on the battlefield,
compact design and low weight,
high level of safety, the GLs are equipped with two types of safety catches: adjustable – two-position lever located on the left side of the body and movable one- button protruding from the right side of the lock chamber,
user-friendly weapon,
simplicity and very quick assembly of GP-40 grenade launcher to  5.56 mm assault rifle kbs mod. 96 Beryl and the possibility of suspending to the other rifles (including AKM) with the bed adapted to this operation.
Gallery
Technical data
| | | |
| --- | --- | --- |
| | GP-40 | GS-40 |
| Calibre | 40 mm | 40 mm |
| Cartridge | 40 mm x 46 | 40 mm x 46 |
| Weapon length | 335 mm | 395/670 mm |
| Barrel length | 264 mm | 264 mm |
| Weight | 1,32 kg | 2,45 kg |
| Effective range | 400 m | 400 m |
| Operating principle | single-shot | single-shot |