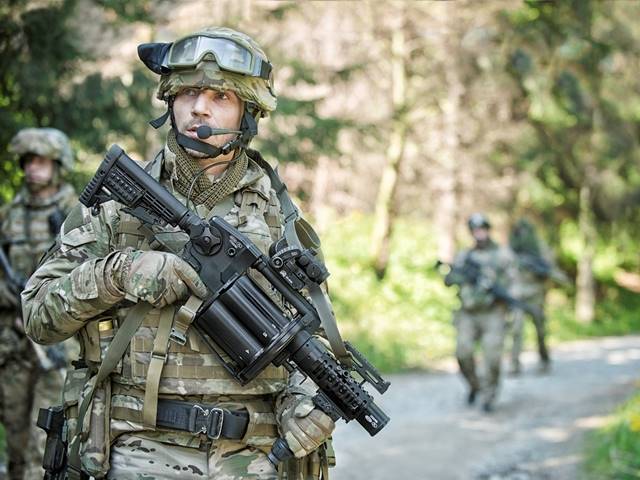 Description
The 40 mm Multi-Shot Grenade Launcher RGP – 40 is a semi-automatic, six-shot weapon using  40 mm x 46 NATO grenades. It has an integral cartridge drum with six  chambers with a length of 140 mm, which allows to use a wide variety of ammunition, including special types. The weapon is fully adapted both for right and left handed gunners. It is equipped with adjustable butt and universal mounting rail for attaching collimator sight. On the barrel cover there are three rails for mounting additional accessories. During the firing from the RGP – 40 it is possible to cover with fire an area of 20×60 meters in a few seconds at a distance of up to 400 m (600-800 m), without the loading the weapon. Taking into consideration weight, rate of fire and reliability, RGP – 40 is in the same class as the other similar grenade launchers produced in the world.
The 40 mm Multi-Shot Grenade Launcher RGP – 40 is intended to eliminate and disable manpower, destroy military devices, buildings, light armoured vehicles and create smokescreens and any other non-lethal actions.
Main characteristics:
high rate of fire,
effective range from 600m to 800 m (depending on ammunition type)
high accuracy,
high efficiency of firing,
low weight,
high manoeuvrability,
high quality of performance,
the possibility of using different types of ammunition.
Gallery
Technical data
| | |
| --- | --- |
| Calibre | 40 mm |
| Cartridge | 40 mm x 46 |
| Weapon length | 850 mm |
| Barrel length | 250 mm |
| Weight | 6,3 kg |
| Effective range | 400-800 m |
| Operating principle | semi-automatic |