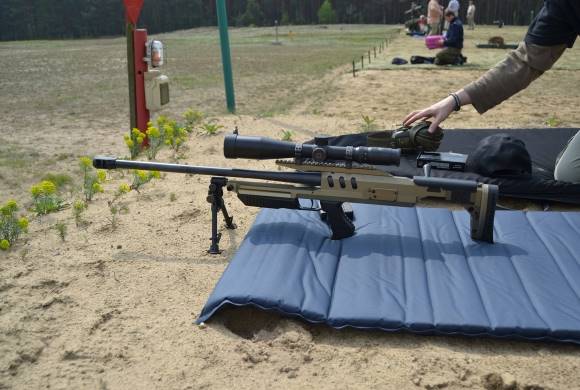 Description
Alex Tactical Sport Training and Sporting Rifle
The Alex Tactical Sport Rifle is fed by a 7.62 mm x 51 ammunition (.308 Winchester) and it's a sporty variant of the military sniper rifle BOR-7,62. The rifle is designed for precision shooting and it can be used as training weapon for snipers. The Alex Tactical Sport is permitted for use within the European civilian market.
.308 ZMT HS Hunting and Sporting Rifle
The .308 ZMT HS bolt-action sniper rifle is fed by a .308 Winchester ammunition and it's a special construction for civilian market. This rifle model is designed for hunters and sport shooters specializing in precision shooting for large distances. The rifle meets all the requirements related to the usage of weapons on Polish and European civilian market.
Main characteristics:
user-friendly rifle,
high efficiency of firing (high accuracy),
low recoil force (because of muzzle brake),
free-floating barrel,
small weapon length (bull-pup system),
high manoeuvrability (low weight, size, centre of gravity located above the pistol grip),
a strong resemblance to a military rifle of the same calibre,
trigger mechanism with very high reliability (low inertia of firing mechanism components).
Gallery
Technical data
| | | |
| --- | --- | --- |
| Technical datas | Alex Tactical Sport | .308 ZMT HS |
| Action  | bolt-action | bolt-action |
| Calibre  | 7,62 mm | 7,62 mm |
| Cartridge | 7,62 mm x 51 | 7,62 mm x 51 |
| Magazine | 10 cartridges | 5 cartridges |
| Weapon length | 980 mm | 980 mm |
| Barrel length | 660 mm | 660 mm |
| Weight | 5,3 kg | 5,3 kg |
| Effective range | 1500 m | 1500 m |