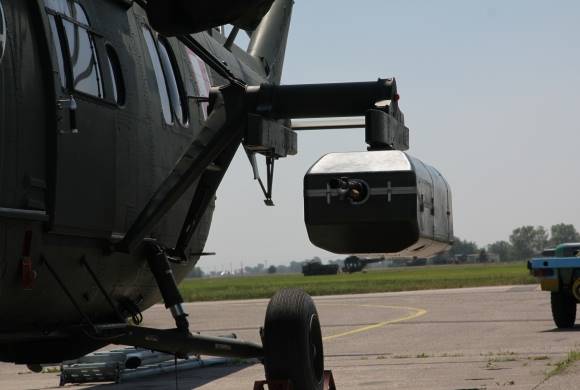 Description
The LZS-12,7 and LZS-12,7WLKM Gun Podsare integral systems for suspending on typical pylons of aircraft and helicopters (with fixing system of NATO standard and former Warsaw Pact-e.g. BD3-55M). The Gun Pods can be armed with a 12,7mm Heavy Machine Gun WKM-Bm or 12,7mm Multi-Barrel Machine Gun WLKM-Bm fed by ammunition 12,7 x99  of NATO standard. The Gun Pod is reusable weapon system suspended on the outer racks and rigidly connected with the helicopter or aircraft.
The LZS-12,7 and LZS-12,7WLKM Gun Pods are designed to arm helicopters and other flying objects for fighting air and ground targets with different resistant characteristics.
Main characteristics:
high accuracy and efficiency due to automatisation of firing,
it can be mounted on different types of aircraft and helicopters,
it is possible to fire with series of programmed length,
outside ejecting of the cartridge cases and links,
calculation of remaining ammunition.
Gallery
Technical data
| | | |
| --- | --- | --- |
| | WKM-Bm | WLKM-Bm |
| Ammunition | 12,7 mm x 99 | 12,7 mm x 99 |
| Dimensions  | 2515 x 555 x 545 mm | 2515 x 555 x 545 mm |
| Weight | 170 kg | 190 kg |
| Ammunition volume | 250 cartridges | 320 cartridges |
| Feeding/reloading | electric/ pneumatic | electric/ pneumatic |