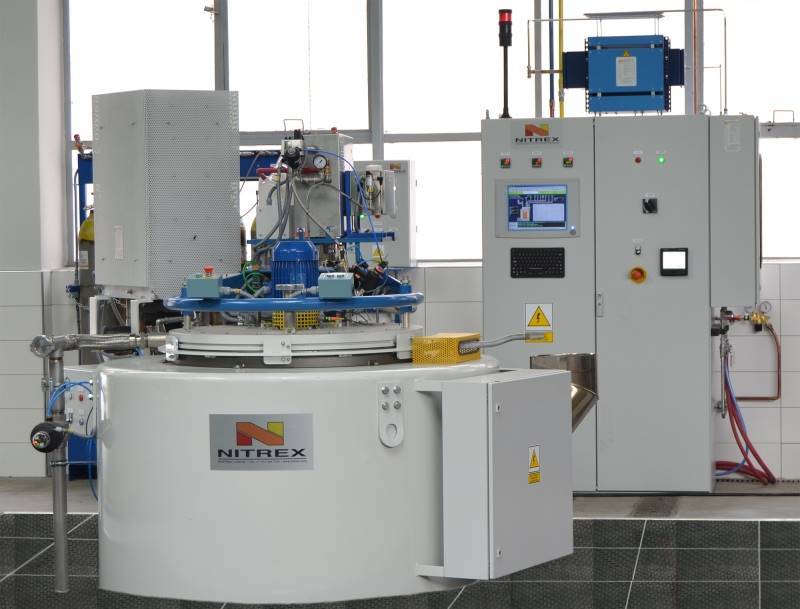 Heat treatment
The ZMT SA offers fast and professional services including heat treatment and thermo-chemical treatment.
We offer:
All types of structural steels, tools and alloy steels hardening in air atmosphere
Salt-bath isothermal quenching
Tools made of high – speed steel and high-alloy steel are hardened at salt-bath. Thanks to individual hardening, this method provides the highest quality tools.
Hardening and normalization in a vacuum oven
Details made of high-speed steel and high-alloy steel with the compressed nitrogen cooling.
Solution heat and aging treatment
Details made of aluminum alloy, copper alloy and high-chromium steel.
Boring in powders and pastes allows to get steel surface layer with a hardness from 900 HV0,3 to 2300 HV0.3 depending on the material type.
Treatment of the rollers, gear wheel and machine tool guideways.
Normalizing annealing (e. g. after forging), stabilizing annealing (e. g. after mechanical pretreatment), stress relief annealing (e. g. after grinding)
Annealing in a furnace with a protective nitrogen atmosphere
Annealing of the items after laser cutting or burner cutting to prepare them for further forming. Protective atmosphere is used to protect parts against surface decarburization, especially items made of thin steel.
Gas carburizing is performed in a computer controlled processes with full archiving of process parameters. Thanks to this we get very high repeatability of the production.
Perfect for small items made ​​in small series. We offer formulations which provide elements partial protection against  carburation  (e. g. threads)
Nitriding with TENIFER® method
TENIFER is the cyanide salt bath treatment in two varieties QP and QPQ. This method is used for details that must exhibit high resistance to abrasion, corrosion and high fatigue strength. Obtained steel surface layer hardness depending of the material type and from 500 HV0.3 to 1300 HV0.3. The corrosion resistance is greater than the chromium and nickel coatings.
NITRIDING with NITREG® method
According to standards AMS 2750D, 2759/10 in the three types of processes:
NITREG®-C – nitrocarburizing
ONC®- oxidation
NITREG®-S – nitriding of stainless steel
Nitreg® is a modern process, capable of meeting the metallurgical requirements of all nitriding specifications that may have been originally written for salt bath, plasma or traditional gas nitriding. The ability to control the concentration of nitrogen in the surface allows the user to control the growth of the compound layer virtually independently from developing a desirable diffusion zone.
Advantages of the Nitreg® process:
excellent process reliability and repeatability
full control of the process parameters
minimizing deformations
greater useful properties by controlling the potential of nitrogen in the layer
Nitreg® technology is used in various industries, such as:
aviation and defence industry
automotive and machine industry
plastics industry
tool industry
electronics and electrotechnics
All types of stainless steel can be nitrided in Nitreg® technology. The martensitic, austenitic or PH materials inclusive.
Technical data
Heat treatment
Max. item length 2 500 mm
Max. item weight 650 kg.
Larger items require individual consultation
Salt-bath isothermal quenching
Max. details dimensions: 400 x 300 x 100 mm
Max. details dimensions: 400 x 300 x 100 mm
Max. tools diameter: Ø 180 mm
Max. tools length: up to 650 mm
Hardening and normalization in a vacuum oven
Max. details. dimensions: 400 x 300 x 900 mm
Max. items diameter: Ø 150 mm
Max. items length: up to 800 mm
Max. items dimensions: 300 x 1 000 mm
Max. items weight: up to 700 kg
Nitriding with TENIFER® method
Max. details. dimensions: Ø 300 x 700 mm
Max. details. weight: up to 60 kg
NITRIDING with NITREG® method
Furnace usable dimensions: Ø 800 mm x 2 000 mm
Maximum load weight: 1750 kg
Gallery