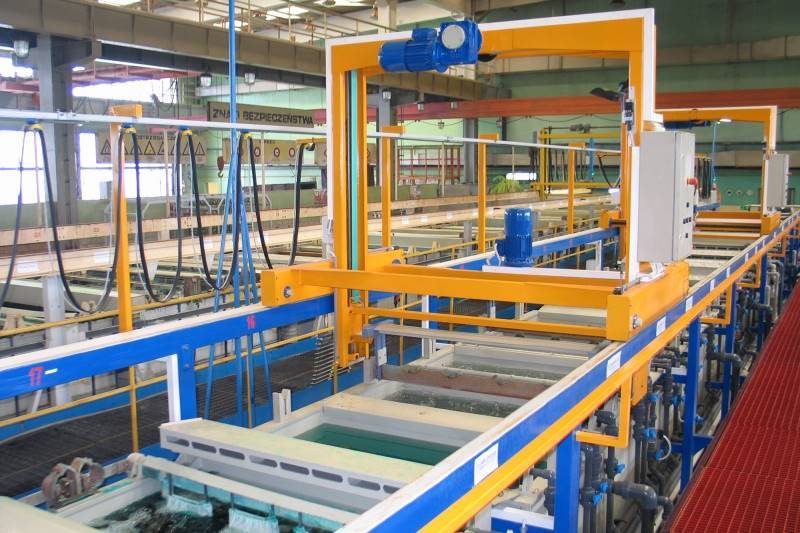 Electroplating:
Zaklady Mechaniczne Tarnow SA provides services for the varied thickness plating, finished in accordance with client requirements
Our gantry have the 3.2 t capacity.
We offer: 
Technical chrome plating – exterior surfaces and holes
The line for technical chrome plating of large items, baths for preparatory operations and chrome removal operations. There is a possibility to perform the process of items dehydrogenation after chromium in vacuum furnaces and dryers.
This process is used to impart corrosion resistance or decorative effects of steel.
Phosphatizing (fine-crystalline)
Acid and cyanide copper plating
Two layers coats  (copper-nickel)
Three layers coats (copper-nickel-chrome) (copper-nickel-brass)
Nickel-copper-nickel-chrome coatings on hangers in the machine
Satin and bright nickel plating
Decorative anodizing (black and aluminum colour)
All of galvanic treatments can be provided according to the customer's request. Prices can be negotiated. Cost of the service depends on the type of treatment, the shape of parts and the number of produced elements.
We use the latest technologies and materials and we guarantee the highest service quality.
Technical data:
Max. details diameter: Ø 600 mm,
Max. details length: up to 2 400 mm
Max. details diameter: Æ 400 mm,
Max. details length: up to 2 400 mm,
Bath dimensions: 1 000 mm x 1 000 mm x 2 400 mm
Max. details dimensions: 1950 x 1000 x 600 mm
Phosphatizing (fine-crystalline)
Max. details dimensions: 1 800 x 800 x 500 mm
Acid and cyanide copper plating
Max. details diameter: Ø 400 mm
Max. details length: up to 2 400 mm
Bath dimensions: 1 400 x 600 x 450 mm
Two layers coats  (copper-nickel)
Max. details dimensions: 1 400 x 750 x 500 mm
Max. details surface area: 100 dm2
Three layers coats (copper-nickel-chrome) (copper-nickel-brass)
max. details dimensions: 1 400 x 750 x 500 mm
max. details surface area: 100 dm2
Nickel-copper-nickel-chrome coatings
Max. details dimensions: 1 900 x 800 x 500 mm
Max. details surface area: 150 dm2
Satin and bright nickel plating
Max. details dimensions: 1 490 x 820 x 520 mm
(small parts in the machine drum)
Max. details dimensions: 1 990 x 1 100 x 500 mm
(small parts in the machine drum)
Max. details dimensions: 900 x 500 x 300 mm
Max. details surface area: 50 dm2
(small parts in the machine drum)
Decorative anodizing (black and aluminum colour)
Max. details dimensions: 1 400 x 750 x 400 mm
Max. details surface area: 50 dm2
Max. details dimensions: 900 x 500 x 300 mm
Gallery: