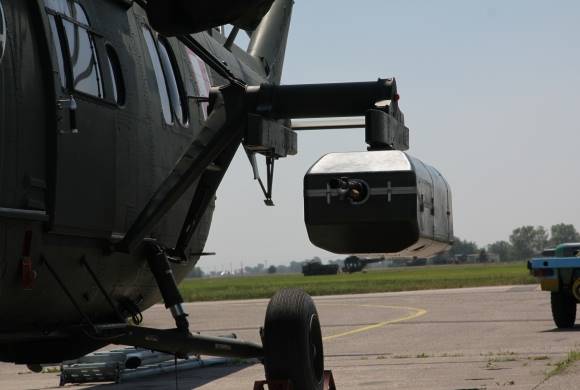 Description
The integrated LZS-12.7 Gun Pod is a detachable pod mounted externally – it is suspended on typical bearing pylons (BD3-55M) of aircrafts and helicopters which comply with NATO standard mounting and Military Armament mounting norms. The pod can be armed with the .50 BMG (12.7 x 99 mm) WKM-Bm or the WLKM-12.7 Multi Barrel Machine Gun containing NATO standard ammunition 12.7 x 99. The pod is suspended on the external junctions – it is a weapon of multiple usage (after replenishing of ammunition).
LZS-12.7 and LZS-12.7 WLKM are intended for arming helicopters and other aircrafts used for combating terrestrial targets as well as airborne targets of differential
resistance parameters.
Gallery
Technical data
| | |
| --- | --- |
| Armament | LZS-12.7 |
| Ammunition (caliber) | 12.7 mm x 99 NATO |
| Dimensions | 2515 x 555 x 545 mm |
| Weight  | 180 kg |
| Ammunition capacity | 250 rounds/cartridges |
| Feeding and reloading | electric/ pneumatic |