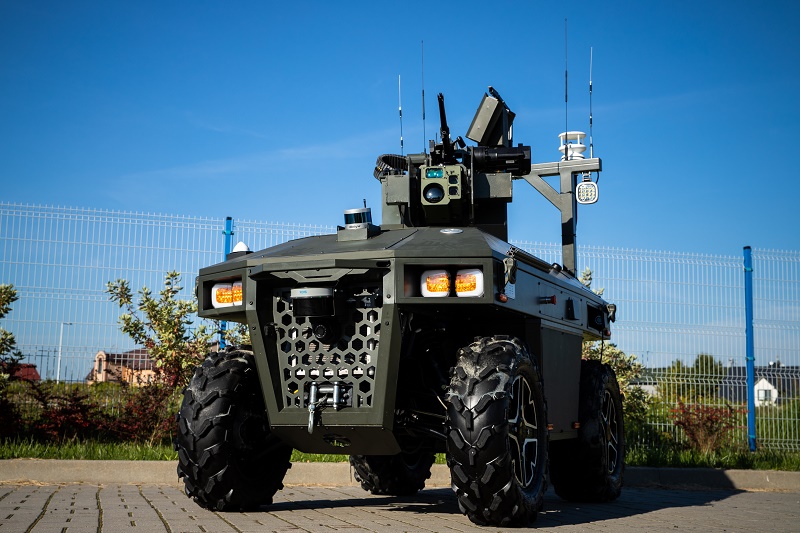 Description
The ZSMU-1276 A3 / A3B is a remotely controlled armament that allows the crew to carry out fire accurately and efficiently in the battlefield from the interior of the vehicle or the object. The positioned armament operates at wide range of firing angles and the applied system of fire control, at a certain guidance velocity rate, gives effective support to terrestrial units and also annihilates live force, technical equipment, lightly armored off-road vehicles, stationary objects and targets in motion that move at various velocities or low-flying air-borne targets at any time of day and night. The equipment is designated for usage in moderate and cold climate.
The ZSMU-1276 A3 / A3B remote controlled weapon station is designated to mount on the following carrier types:
– wheeled armored transporter vehicles,
– off-road personnel vehicles,
– specialized wheeled and tracked vehicles,
– stationary objects and floating units.
TECHNICAL DATA
ZSMU A3
ZSMU A3B
Basic armament
UKM 2000C cal. 7.62 mm
WKM-Bm cal. 12.7 mm
Weight
165 kg ±5%
190 kg ±5%
Service
1 person
1 person
Reloading
Basic – electrical, emergency – manual
Basic – electrical, emergency – manual
Work mode/cycle
– using operator's control desktop,
– using operator's control desktop,
– emergency (manual)
– emergency (manual),
– additional control panel from the moveable stand
Elevation angle scope (ascension)
od –5 ̊ do +50 ̊
od –5 ̊ do +50 ̊
Azimuth angle scope (rotation)
n x 360 ̊
n x 360 ̊
Optoelectronic head
– day camera,
– day camera,
– thermal vision,
– thermal vision,
– laser rangefinder (5 km)
– laser rangefinder (5 km)
Additional features
ballistics adapted for the UKM 2000C
– gyroscope stabilizer unit for armament and cameras
– video-tracker, visual target tracking,
– comprehensive ballistics for tracking targets in motion
– for the rifles: UKM 2000C and WKM-Bm 12.7mm
Gallery